Livestream: England vs Germany in Euro 2020 last-16
The results are in! After a tense battle in Group F and a couple of close calls, Germany are officially through to the last 16 of Euro 2020 and set to face off against group D winners England next week at Wembley.
As an iconic football rivalry spanning back over decades, this match is definitely not one to miss - with the winner going through to the quarter finals. In this guide, we are taking you through all the essential info for the upcoming match, including how to stream England vs Germany live in Germany on your smartphone or tablet.
England vs Germany: A reunion of two old rivals
As the last two weeks have shown, anything is possible in Euro 2020. The highly anticipated upcoming clash between Die Mannschaft and the Three Lions will have many viewers on the edge of their seats.
Since the legendary World Cup final of 1966, these two old rivals have had no end of nail-biting showdowns, including the Euro 96 final, which was the last time the two teams came head to head at Wembley. Here it was England manager Gareth Southgate who missed the deciding penalty that ultimately lead to Germany's victory - something he will no doubt be looking to make up for next week.
With this also potentially being Jogi Löw's last game as Bundestrainer, fans everywhere are eagerly anticipating a thrilling battle of two highly-skilled sides.
Where to watch England vs Germany live in Germany
In Germany, the match will be broadcasted live on ARD at 18:00 - with build up and coverage taking place before kick off.
Don't have access to a TV or looking for a high quality live stream? You can stream England vs Germany live on your iPhone, iPad or Mac with the Live TV App.
With Live TV, you can easily stream over 200 channels (including international channels) in top quality on iPhone, iPad, Android, Mac or Apple TV.
The Live TV App for iOS and Android gives you the freedom and flexibility to watch all the Euro 2020 knockout matches, including England vs Germany, on the go on your smartphone or tablet.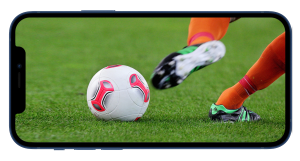 How much mobile data do I need for a football match?
Worried about racking up high mobile data costs or relying on poor public transport WiFi? With Live TV, you also have the freedom to decide the quality of your stream, saving up your mobile data.
Don't miss a second of the action - with live replay
Missed a key moment in the match? Want to watch your favourite player score again (and again 😉)? Take control of your action replays and use the Timeshift feature in Live TV to quickly rewind live playback.
Live TV is also compatible with picture-in-picture mode on iOS and Android (where applicable), meaning you can keep up with all the Twitter commentary, sports blogs or your group chats parallel to watching the match live.
Euro 2020 Quarter Finals, Semi Finals and Final
Stay tuned, as Live TV will also be streaming the upcoming Euro 2020 quarter finals and semi finals, as well as the coveted final on 11th July!
Get Live TV and never miss a Euro 2020 match
Download and test Live TV free today. Available on all major platforms - without an account, subscription, or any obligation!